Ask your MSP to support motion S5M-10125: Ahed Tamimi
Ahed Tamimi from Nabi Saleh was just 14 when she rose to international prominence through the release of a video and a series of photos capturing her desperate
attempts to save her 11-year-old brother, Mohammad, his broken arm in a plastercast, from the grips of an Israeli soldier in 2015. After this, during the village's weekly protests, Israeli forces would often scream Ahed's name and shout curses at her. "Look! It's Ahed Tamimi. Shoot her!" her father, Bassem, recalled one soldier as saying.
The family was often scared for their daughter, he added: "Whenever the soldiers recognise her, they do something to make her life difficult. Every time she left the house, we were scared something would happen to her." Ahed was even forced to stay at her cousin's home in Ramallah, where she attends school, to avoid the danger of passing through Israeli checkpoints on her way from Nabi Saleh.
Hundreds of dunams of the village of Nabi Saleh's lands have been confiscated for the purposes of building Israel's illegal Halamish settlement, whose residents have burned hundreds of the village's olive trees. In 2009, the village's water spring was also confiscated for the use of the settlers. The 600 or so residents of the village receive only 12 hours of running water a week from Israel, while the settlers in Halamish have running water 24 hours a day. A large swimming pool can also be seen on the settlement grounds from the Tamimi family's home.
Ahed with her parents Nariman and Bassem Tamimi
The village is raided almost every day by Israeli forces, who douse residents' homes with skunk spray, a putrid-smelling liquid. "The Israeli army targets the water tanks installed on their roofs," Bassem said. The vast majority of the lands in Nabi Saleh are in Area C, which is under full Israeli military control, and Palestinian construction is restricted. As a result, at least 13 homes in the village including Ahed's have pending Israeli demolition orders, which can be enforced at any moment. Bassem said, "it's a silent ethnic cleansing."
In December, 16 year old Ahed slapped a fully-armed Israeli soldier and she is now in an Israeli prison awaiting trial (Israeli military courts have a greater than 99% conviction rate). One week before the incident, her 14 year old cousin was shot in the head. He is still in a coma. Parts of his skull are to be reinstated in six months time.
Ahed has been at the forefront of the Friday demonstrations in Nabi Saleh, in which the residents of the village walk towards the spring that was confiscated for use of the encroaching settlement on the adjacent hilltop. The residents never actually make it to the spring; they get beaten back by teargas, stun grenades, rubber bullets and skunk water, but every week for years they have protested the theft of their land and water by participating in this non-violent form of resistance of which 16 year old Ahed has become a symbol.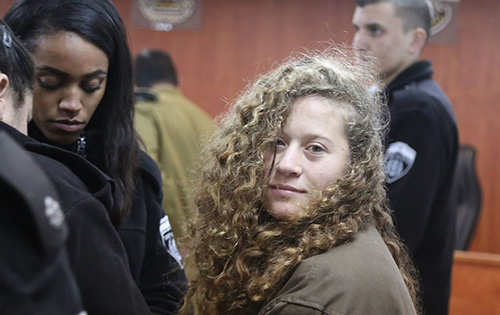 The only protection she has now is international publicity and attention. Ross Greer's motion sends two messages; one to Ahed that she is not alone (very important) and another (equally important) to the Israeli government. The Israeli education minister has already said she should end her days in prison and an Israeli journalist, Ben Caspit, caught the general mood when he wrote that "we should exact a price at some other opportunity, in the dark, without witnesses and cameras."

Please ask your MSP to sign:
Ahed Tamimi

That the Parliament notes with concern the reported detention since 19 December 2017 of 16-year-old Ahed Tamimi by the Israeli forces illegally occupying Palestine; notes that Ahed is from Nabi Saleh, which a village in the West Bank; understands that the village has faced encroachment by Israeli settlements, resulting, it believes, in land confiscations and access to water being restricted, all of which are illegal under international law; understands that Ahed and her family, along with many others from Nabi Saleh, have faced sustained persecution and intimidation by Israeli forces due to their efforts in resisting occupation; believes that her arrest followed the shooting of her 14-year-old cousin in the head at a protest against the relocation of the United States' embassy in Israel on 14 December and the reported subsequent harassment of the family at their home by Israeli forces; expresses its grave concern at what it sees as the use of military detention against children and young people by Israel and the findings by UNICEF, which suggest that ill-treatment of young people by the Israeli military detention system is "widespread, systematic, and institutionalised", and supports the calls by Amnesty International, and other human rights bodies, for Ahed's immediate release.
Supported by: Ivan McKee, Andy Wightman, Ruth Maguire, David Torrance, Alex Rowley, Pauline McNeill, Ash Denham